A New Way To Examine For Oral Disease
VELscope® Vx technology is changing the way oral mucosal examinations take place. The VELscope®Vx handheld device emits a harmless, bright blue light that is used to inspect the mouth and tongue. The device is sensitive to abnormal tissue changes, and the distinctive blue-spectrum light causes the soft tissue (oral mucosa) of the mouth to fluoresce naturally. Healthy tissues fluoresce in distinct patterns that may be visibly disrupted when tissue undergoes an abnormal change (which can occur in the oral mucosa for a multitude of reasons,) such as when associated with dysplasia or oral cancer.
Why Early Discovery Matters?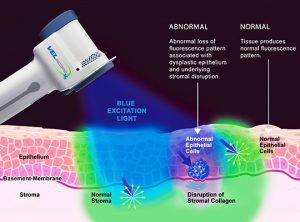 The statistics are highly suggestive: when discovered early, the five-year survival rate for oral cancer patients is about 83%. Unfortunately, most cases of oral cancer are discovered in late stages, when the five-year survival rate drops to around 50%.
The VELscope device is based on an imaging modality that is sensitive to tissue changes. Its use in everyday practice can provide timely information to dentists and hygienists to enable enhanced visualization of abnormal tissues, which is beneficial for patients.